Offers Information and Technology to Match Your Needs
Todoroki Contributes to Society as a Trading Company that is Specialized in Industrial Technology.
The thing that many of our customers expect of Todoroki is that we will always be anticipating the next step. In short, they look to us for our power of information. In the industial world where systems sophistication and high technology are advancing constantly, "common knowledge" is changing day by day. Todoroki set it as a matter of appropriate policy to always keep a firm grip on these ever changing conditions.
Todoroki doesn't stop there, but is also shipping products which anticipate the future. The ability to understand future trends is Todoroki's definite technical strength.
Our founding spirit and our employees maintain their determination to see beyond the realm of what is possible. We at Todoroki Sangyo, strive to satisfy all the demands of our customers.
We will never cease to propose and develop new technologies for our customers.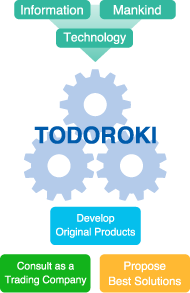 Company Outline
Company Information
Corporate Name
TODOROKI SANGYO CO.,LTD.
Founded
March 1, 1948
Incorporated
September 20, 1954
Head Office
3-2-4 Keya, Fukui, Fukui
918-8550
Tel. (0776) 36-5522
Representative Officer
Kaoru Sakai, president
Capital
262,500,000 Yen
Number of Employees
557 (As of July 2019)
Construction Permit
Permit Ministry of Land, Infrastructure and Transport Permit (Special 21, No.1492) Ministry of Economy,
Trade and Industry Electric Heat Manufacturing Permit,
Plant Name (Toyama) No.17
Member Organizations
lnstrumentation and Automatic Controls Association
Kinki Chemical Association
Fukui Prefecture Information
Systems Industry Association
---
Business Content
Marketing Division
lndustrial Measuring Instruments, Electronic control devices, Energy saving industrial devices, Energy conservation devices, Environment related devices, Material handling devices, Water treatment equipment, Research and development devices
Manufacturing Division
Measuring Control systems, Research and development devices, Data processing systems, Energy saving machines, Exclusive machine automation systems, Design, Manufacturing
Facilities Construction Division
Air conditioning, Water supply and drainage, Sanitary system construction, Electric instrumentation equipment construction, Fire fighting and disaster prevention equipment construction, Construction of various types of plant equipment
Technical Service Division
Instrumentation control devices, Maintenance of environment related devices, etc.
Correspondent Banks
Fukui Bank Kida Branch
Hokuriku Bank Fukui Branch
Mizuho Bank Fukui Branch
Affiliated Companies
Todoroki Real Estate Co., Ltd.
Nagao Sangyou, Ltd.
SYSTEC USHIJIMA CO.,LTD.
SATO INSTRUMENTS CO., LTD.
TODOROKI(THAILAND)CO.,LTD.
Environmental Management System
ISO14001 certified
Registered Offices
Head office and all branches
Applicable Standards
ISO14001:2015 (JISQ14001:2015)
Scope of Application
Industrial instrumentation, hydraulic/pneumatic industrial machinery and other labor-saving and energy saving equipment, sales of environmental measuring devices and chemical synthesis machine, automatic prepared liquid equipment and other labor-saving device, design and manufacture of instrumentation and industrial equipment monitoring systems, maintain environmental measurement equipment and construction work and plumbing of emergency management and health facility(Some establishments do not apply all of these activities).
Certification Body
ASR Co.,Ltd
Acquired Date
Updated at July 31, 2018
Examining Authority /
Certification Authority
Certificate of Registrations