Message from Sadami Sakai
As a successor of the name Todoroki, a heritage from the ancient times
Since our company's establishment in 1948, Todoroki Sangyo has passed the half-century mark. While maintaining our foundation principles of trust and sound management, we have diligently sought to meet the genuine needs of our customers. In the industrial world, particularly in the fields of electronics, mechatronics biotechnology and new materials, the technological revolution is progressively moment by moment. Thus, society demands more diverse, sophisticated technologies, making this company's role increasingly important.
It is our company's mission to combine our technologies with the characteristics of each of our supplier companies and offer products and systems which truly match customer needs. We surpass the limits normally set for a trading company which specializes in industrial technology by including the service of consultation. We offer technological expertise and create an environment which will serve our customers from various aspects.
One of our services includes the establishment of a product development center which employs the latest high-tech equipment. This facility is a symbol of our sincere attitude toward dedicated research and development activities.

President Sadami Sakai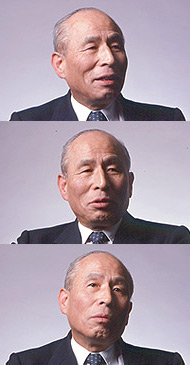 ---
300 million Years ago…
In the office of our company president there is placed a rock with a fantastic shape which fell from heaven. The Chrysanthemum Stone, found in the Neo Valley in Gifu Prefecture, shows the pattern of three geared wheels,which closely resembles the Todoroki company symbol.It has been estimated that this rock is approximately 300 million years old. It is a thrilling thing for us to possess an artifact like this that existed since before the dawn of the human race.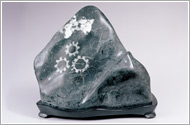 Rock with a fantastic shape that fell from Heaven, the Chrysanthemum Stone